Use cases
Want to import CAD data not divided. (Company G: Die casting mold)
When importing surface data into CAD system, sometimes surfaces are divided.
However, in many cases, the original surfaces had been not divided.
Why is the surface divided when CAD data is imported?
Generally, a surface consists of multiple patches.
When CAD system such as CATIA determines that the patch boundary of a surface is "broken," it forces the surface to be divided.
However, the operator often uses the CAD data as it is, simply thinking "Why are the faces divided?"

Detect the surface with risk of division
There is CATIA as one of the CAD that sensitively judge that the patch boundary of a surface is "broken".
spGate has an item called "Surface with risk of division" as a defect error check item of CATIA.
This check item is not included in the PDQ guidelines, but it is a check item originally prepared by spGate.
When this check item is detected, the surface is approximated within the specified tolerance by performing automatic healing.
As a result, many faces are not divided when importing into CATIA.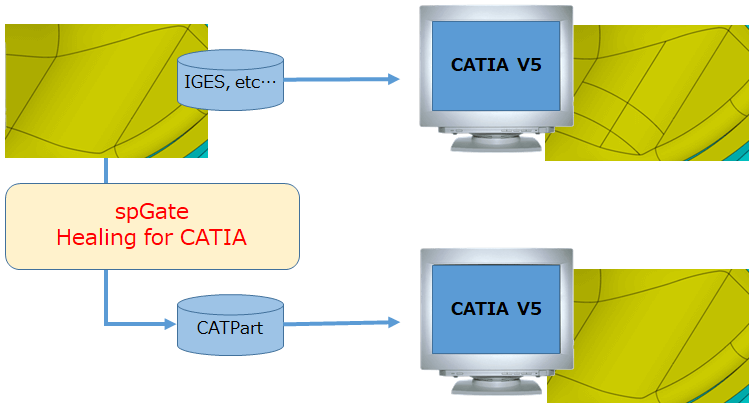 tag : Repair data