Use cases
Using the Geometry of Actual Products for Reverse Engineering and Analysis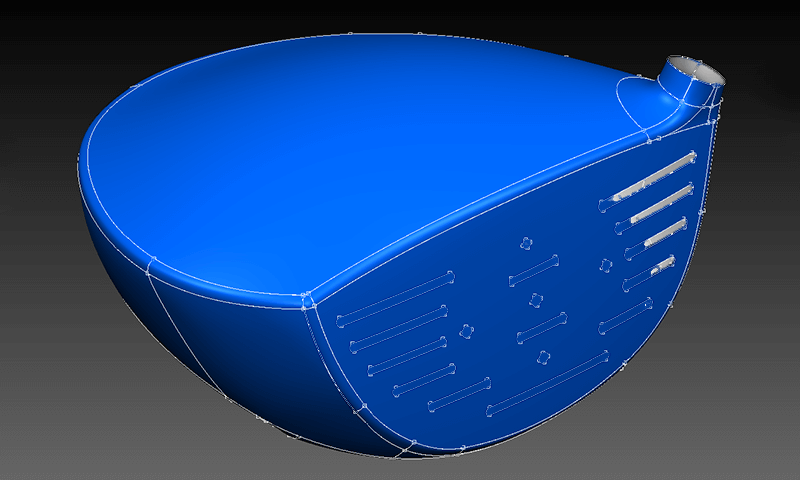 Here is an example in which spScan's reverse engineering functionality was utilized to convert the geometry of an actual product into CAD data and conduct analysis work.
Issues involved in converting actual products to CAD surfaces
Because there are differences between the geometry of the design CAD data and the design of the actual product, experimental results obtained from the actual product might differ from analysis results based on the CAD geometry.
Therefore, it is necessary to analyze not only the geometry of the design CAD data but also a CAD model derived from the actual product in order to verify consistency with experimental results obtained from the actual product.
In order to use actual products produced by the company and by another company for analysis, it was necessary to measure the actual products using a no-contact measuring device and to create CAD surfaces from the point cloud geometry. However, using CAD software to do the modeling took a long time, and it was difficult to maintain reproduction accuracy with respect to the actual products.
Using spScan to create CAD surfaces suitable for analysis
Using spScan, a program specifically for reverse engineering, you can create 3D CAD surfaces that have reproducibility with respect to the actual product.
Because error is checked in comparison with the actual product while the spline surfaces are being created, reverse engineering can be done in less time. (Man-hours required in reverse engineering are reduced to one third.)
Additionally, analysis accuracy has been improved because the reverse engineering of CAD surface configurations suitable for analysis was enabled.
Examples of parts reverse engineering applied to analysis
Applying reverse engineered surfaces from actual parts to strength analysis

 
Applying reverse engineered surfaces from multiple actual parts to assembly analysis

 
Applying reverse engineered surfaces from actual parts to CFD (fluid) analysis

tag : Actual product analysis